Kurt J. Lesker Company® Enables...
Solid-State Lithium Thin Film Batteries
Vacuum deposited solid-state lithium thin film battery.
A huge number of electronic devices in use today require rechargeable batteries. An example of a traditional Li-ion rechargeable battery includes a negative electrode made from carbon, an electrolyte made from Lithium salts suspended in a solvent and a positive electrode made from a metal oxide. While commercially very successful, this battery structure, because of its liquid component, is highly flammable and has been the source of many fires and explosions.
A safer battery chemistry has been achieved with the all solid-state Lithium thin film battery based on a cathode made from Lithium Cobalt Oxide, an electrolyte of Nitrogen-doped Lithium Orthophosphate (LiPON) and an anode of Lithium (Li) metal. This solid-state structure, when deposited in vacuum, has resulted in near perfect energy-dense, long-life batteries which can be cycled from full charge to full discharge thousands of times with no degradation in performance.
Kurt J. Lesker has been manufacturing PVD tools for battery research for many years, having supplied tools to the world's leading research institutions. Because of this, our team of dedicated applications, design and vacuum experts have developed unrivalled know-how about the creation of this exciting class of thin films that are now seeing real-world applications with active RFID tags, real-time clocks, secured pay-cards, sensors, wearable devices, Systems-in-package (SiP) components and energy back-up for portable electronics being driven by the exciting Internet of Things (IoT).
Solid-state lithium thin film batteries will help enable the Internet of Things (IoT).
The following properties are important factors for thin film batteries; ionic conductivity, (non)-porosity, electronic conductivity and crystallinity.
The optimal electrolyte should be an efficient ion-conductor and a good electrical insulator allowing the battery to operate safely. The anode and cathode should be dense and allow easy transition of Li between these two layers through the electrolyte. Individual film uniformity and pristine surfaces are key for the battery to work efficiently over time, so deposition parameters are hugely important.
The vacuum fabrication process commonly involves DC sputtering of metal current collectors, RF or pulsed DC sputtering of cathode layers (such as LiCoO2, LiMn2O4, V2O5), high temperature annealing (either in-situ or ex-situ) of the cathode, reactive RF sputtering of Li3PO4 in N2 Ar/N2 to create the LiPON electrolyte, thermal evaporation of the Lithium metal anode and then device encapsulation with Parylene or other conformal coating materials using ALD.
A well optimised combination of these materials can yield a thin film battery that is light, thin, long lasting and safe.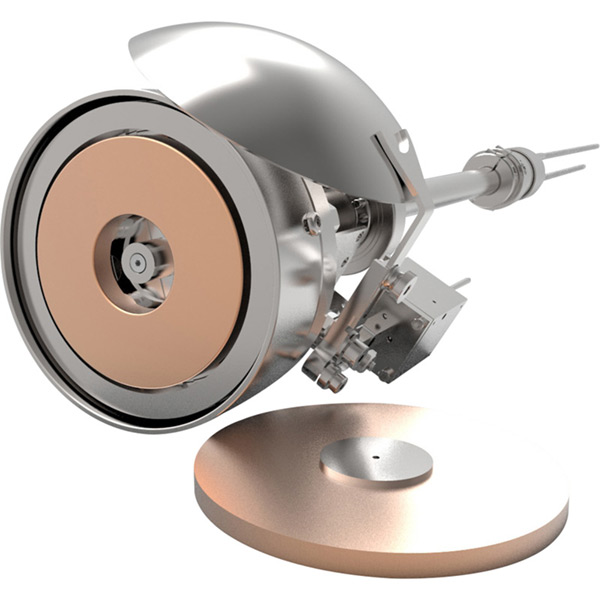 Kurt J. Lesker Patented TORUS® MagKeeper™ Sputter Cathode.
Dual process chamber glovebox-interfaced thin film battery deposition tool.
We understand that tool personalization that addresses a researcher's unique requirements is critically important and we have therefore developed and support an extensive capabilities portfolio including:
HV base pressure process chambers for very low film impurities
Glovebox compatibility as standard for handling of sensitive materials (Lithium) and devices
Multiple HV magnetron sputter sources with both high and low deposition rate capability
Patented MagKeeper sputter sources with low sputtering pressure, high deposition rate and low contamination operation
Separate sputtering & heating process chamber (Mini SPECTROS) and thermal evaporation chamber (NANO 36) to avoid contamination between layers
DC power supplies for deposition of current collector layer
RF power supplies for deposition of cathode layers (e.g. LiCoO2) and electrolyte layer (e.g. LiPON)
Pulsed DC power supplies for precise deposition of certain cathode layers
Resistive thermal heating sources for evaporation of Lithium anode material
In-situ film measurement to accurately monitor real-time deposition parameters
Process chamber shielding to ensure minimal crosstalk between each deposition source and quartz crystal monitors
High temperature (>500°C) heater stages for annealing sputtered Li3PO4 in N2 to create LiPON
RF bias for substrate cleaning prior to deposition
Kurt J. Lesker Materials Division supply and support of novel battery materials
Upstream and downstream multi-channel pressure control allowing repeatable, stable sputtering conditions
Fully integrated film recipe and system control using our Lesker eKLipse™ process control platform for precise, repeatable deposition conditions
Would You Like More Information about Solid-State Lithium Thin Film Battery deposition systems?