Kurt J. Lesker Company Enables...
Physical Vapor Deposition (PVD) of Magnetic Thin Films: Spintronics, GMR & TMR Thin Films & Heusler Alloys
The Principle of TMR
Spin electronics, often referred to as Spintronics, is a fast-paced area of research that merges magnetism and electronics by studying the spin of an electron and its associated magnetic moment.
Several breakthrough applications that utilize spin have been discovered in the last few decades. These include Giant MagnetoResistance (GMR) and Tunneling MagnetoResistance (TMR). Popular applications of GMR and TMR devices include magnetic field sensors, biosensors, MEMs and spin valves. TMR is the basis for MRAM (Magnetic Random-Access Memory) and most recently for STT (Spin Torque Transfer) RAM.
These nanoscale devices, or Magnetic Tunnel Junctions, are based on multi-layers of thin films which integrate magnetic materials and non-magnetic spacer layers. In both GMR and TMR devices the spacer layer or tunnel barrier is an ultra-thin insulator (MgO).
Fixing the magnetic orientation of one magnetic layer so its magnetization always points in one direction and then switching the orientation of the other magnetic layer results in a large change in the resistivity across the layers. This change of resistance is called the MR (magnetoresistance) ratio. TMR ratios of several hundred percent have been reported, many times that achievable with GMR.
Kurt J. Lesker has been manufacturing PVD tools for magnetic thin films since the 1990s, having supplied tools to the world's leading research institutions. Because of this, our team of dedicated applications, design and vacuum experts have developed unrivalled know-how about the creation and application of this exciting class of thin films.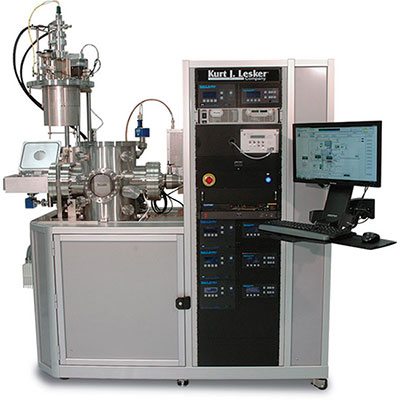 UHV LAB Line Sputter Deposition Tool for Magnetic Thin Films
The fabrication of high quality magnetic thin films for GMR and TMR devices requires that the physical vapor deposition (PVD) tool be capable of producing high purity, highly controlled elemental & alloy thin films (typically <1nm thick) and ultra-thin MTJ's in a high purity UHV process environment, yet also be flexible enough to allow for materials engineering and personalization of the films based on the particular and often unique application. Sputtering MgO can be "tricky" and is critical for optimum device performance.
Manufacture of high-quality thin films and devices often involves the use of multiple and separate process modules for metals and oxides. DC, RF and Pulsed DC power are all utilized to create the desired effect of a highly controlled, high purity, smooth and ultra-thin film. Finding an optimal thickness of the MTJ MgO spacer layer is therefore important, therefore the underlying FeCoB film should be smooth, so strict control of the sputtering conditions is vital.
Our patented Torus Mag Keeper™ sputter sources are stable at low deposition rate, UHV compatible, operate at low sputtering pressures and accept thick magnetic targets. Our patented compact dome shutter eliminates cross contamination between sputter sources.
Kurt J. Lesker LAB Line PVD tools can have up to 12 sputter sources fitted in a single process module. We offer stand-alone, multi-chamber and cluster tool systems. In-situ RHEED and ellipsometry are available as standards options as are heated and cooled substrate stages, RF bias and indexable magnetic field at the substrate.
We understand that tool personalization that addresses a researcher's unique requirements is critically important and we have therefore developed and support an extensive capabilities portfolio including: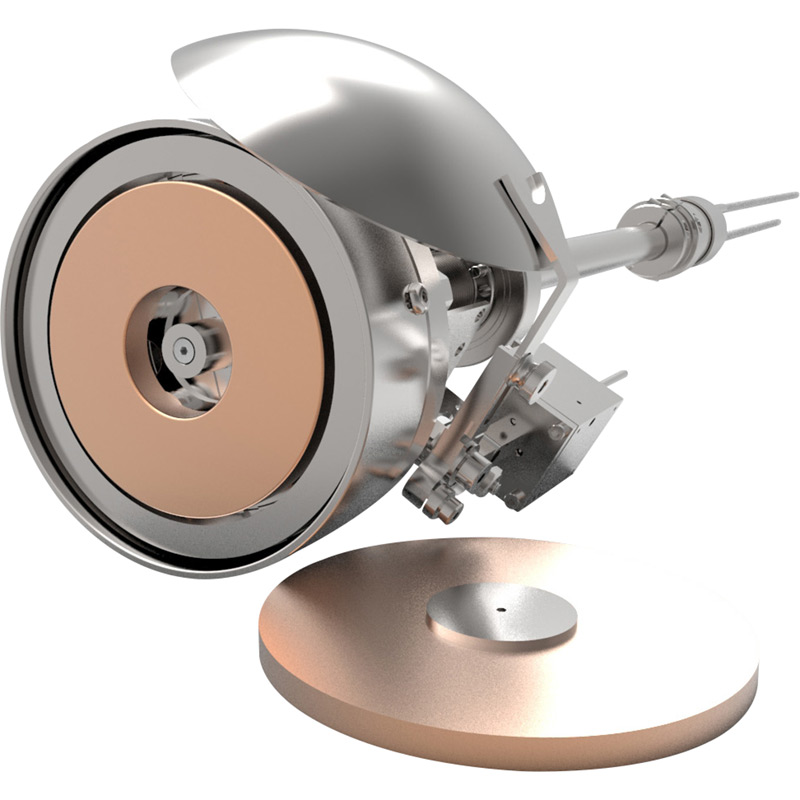 Kurt J. Lesker TORUS® Mag Keeper™ Sputter Cathode
VHV and UHV base pressure process chamber options for very low film impurities
Multiple patented Mag Keeper™ UHV compatible magnetron sputter sources with very low deposition rate and high deposition rate capability, able to operate at low sputtering pressures. High strength magnet options for sputtering of magnetic materials
Multiple process chamber modules available
Optimized process chamber geometry to enable excellent film uniformity
Load lock options for quick sample entry and maintaining process vacuum integrity
DC power supplies for magnetron sputtering and co-sputtering of metals and alloys
RF power supplies for sputtering ultra-thin barrier insulators
Pulsed DC power supplies for reactive sputtering of compounds
HiPIMS power supplies for deposition of very smooth (low surface roughness) films
Upstream and downstream multi-channel pressure control options allowing repeatable, stable standard sputtering and reactive sputtering conditions
In-situ film measurement to accurately monitor real-time deposition parameters providing ultra-precise deposition rate control essential for <1nm films
Ion sources for substrate cleaning prior to deposition
RF bias for cleaning and reactive sputtering
Heating substrate platens for post-film growth annealing
Cooling substrate platens
Fully integrated film recipe and system control using our Lesker eKLipse™ process control platform for precise, repeatable deposition conditions
We want to hear from you. Our thin film experts and service support team are eager to help enable your important research.
Systems That Fit Your Application